Frequently Asked Questions
Q. Where do I park?
We recommend the following options for car parking:
Clock Tower Car Park: This is the blue car park symbol on the map below. We can offer complimentary overnight parking here for hotel residents for up to 72-hours. Please note that this car park has limited spaces and cannot be reserved. If this car park is full we recommend Merchant's Quay Car Park.
Merchants Quay Car Park: This is the black car park symbol on the map below. The entrance is on the roandabout pictured below. The prices are as follows:
1 Hour - €2.00
12 Hours - €7.00
24 Hours - €10.00
Weekly Rate - €25.00
Monthly Rate - €100.00
A space in this car park can be reserved on the ParkPNP mobile application.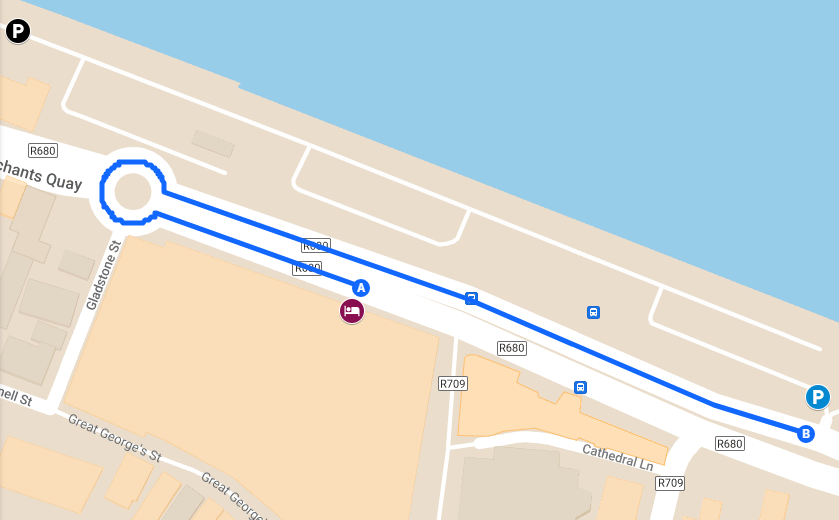 Q. What time is check in and check out?
A.
Check in is from 4pm onwards. Check out is 12noon on day of departure.
Q. Does the hotel have Wifi?
A. Yes, we offer complimentary WiFi for all guests of the hotel.
Q. Is the hotel central in Waterford City?
A. Yes, we are located right in the heart of Waterford City with easy access to shops, nightlife, museums, restaurants and bars.
Q. Is the hotel located close to Waterford Greenway?
A. Yes there are many access points to join the Greenway, including the closest to us at Bilberry a 10 minute walk/ 2 km from the hotel.
Q. Are there beaches nearby?
A. Waterford has many beautiful beaches all a short drive outside the city, the closest would be just a 15 minute drive from the Granville Hotel.
Q. What are your breakfast times?
A. We serve breakfast in the restaurant daily from 7am until 10am
Breakfast is available in the bar from 10am until 11.30am
Q. What times do you serve food?
A. We serve Carvery daily from 12.30pm until 2.30pm then we have Barfood until 9.30pm in the Thomas Francis Meagher Bar
In our Bianconi Restaurant we are open from 5pm until 9.30pm daily, Sunday Lunch is from 12.30pm until 5pm.
Q. Do you provide gluten free, vegan and vegetarian options?
A. Yes we have many options for specific dietary requirements, please ask your server for more information when you are dining here.
Q. Can we store bikes?
A. Yes we have an area with mounted bicycle racks that you can lock your bike to.
Q. Can we store luggage?
A. Yes we can store your luggage at reception on your day of arrival or day of departure
Q. Are there smoking rooms available?
A. Our hotel is an entirely non smoking hotel apart from a designated smoking area
Q. Do you have a laundry service?
A. Yes we can wash clothes here in house for a fee, items that need to be dry cleaned are outsourced.
Q. Is the hotel Wheelchair accessible?
A. Yes, wheelchair accessible rooms are also available please book in advance.
Q. Do you cater for pets?
A. We only accept guide dogs
Q. Do your rooms have air conditioning?
A. We have limited availability of rooms with air conditioning, please contact us direct should you wish to reserve one
Q. Do you have evening entertainment?
A. We have entertainment every Friday and Saturday from March to October and during the winter months every Saturday. We regularly have midweek music but it is subject to change, please enquire when making a booking if there is music on your chosen date.
Q. What is the cancellation policy?
A. We have a 48hr cancellation policy after which you will be charged for the first night stay.
Q. Can cots be provided?
A. Cots for young children can be provided upon request.
Q. Can highchairs be provided?
A. Highchairs are available in our Bar and Restaurant, please ask a staff member
Q. How can I hear about Special Offers?
A. Just Click Here to sign up and receive our special offers by email.