Granville Hotel Awards
TRIPADVISOR REVIEWS
4.5 Stars on Tripadvisor

'Elegant Yet Relaxed Atmosphere'
Reviewed March 2020
" Beautiful hotel on the waterfront in Waterford. Extremely accommodation staff. Rooms were very large compared to most. THey even had a heated towel rack, which was very nice after your bath or shower. Breakfsat and dinner were outstanding. Porridge with whiskey was a delight! Waterford Crystal is within walking distance"
Great Taste Awards
Great Taste, the world's most coveted food and drink awards, has announced its stars of 2019. Out of 12,772 products sent in from over 100 different countries, The Granville Hotel, Waterford was awarded two Great Taste awards, which means the judges dubbed the two products as food that delivers fantastic flavour. We received one award for our Raspberry Jam and another award for our Strawberry Jam.Judged by over 500 of the most demanding palates, belonging to food critics, chefs, cooks, restaurateurs, buyers, retailers and producers, as well as a whole host of food writers and journalists, Great Taste is widely acknowledged as the most respected food accreditation scheme for artisan and speciality food producers. As well as a badge of honour, the unmistakeable black and gold Great Taste label is a signpost to a wonderful tasting product, which has been discovered through hours and hours of blind tasting by hundreds of judges.
Waterford Wins Foodie Destination of the Year 2019
Waterford has been announced as the winner of Foodie Destinations 2019, an initiative run the Restaurants Association of Ireland and kindly sponsored by FBD Insurance. Votes from the public were combined with a score from a judging visit to decide the overall winner.
Speaking about the entry from Waterford, the judges said that they were blown away by how much effort the community had put in to making Waterford a real foodie experience. They said there was a great sense of community evident on their visit, with both big and small local companies getting involved. There was great local awareness, as well as pride and passion, for food and food tourism in the area. They enjoyed seeing chefs and producers working so closely together to provide the best experience possible for visitors to the area.
Pictured below are some of the Granville Hotel staff celebrating the Foodie Destination Award along with our Great Taste Award winning jams
Blas na hÉireann
Irish Food Awards
2018 - Bronze Award for Granville Greenway Marmalade
2018 - Bronze Award for Granville Strawberry Jam
2017 - Gold Award for Granville Raspberry Jam
The Blas na hÉireann Awards are the biggest blind tasting of produce in the country, and the criteria on which the product is judged as well as the judging system itself, which was developed by Blas na hÉireann with the Food Science Dept. of UCC, is now recognised as international industry standard. These awards are celebrating and rewarding the best tasting Irish food and drink products and the passionate, driven producers who make it.
Research has shown that the Blas accreditations have the highest recognition amongst Irish consumers and using the award logo is their guarantee of a top quality Irish product.
Blas na hÉireann was founded so that quality benchmarks could be established for Irish produce on a level playing field.
We, at the Granville Hotel were delighted to be awarded the Gold Award for our Raspberry Jam 2017 and the overall Best in Waterford Award, along with a Bronze Award 2018 for our Granville Greenway Marmalade and another Bronze Award for our Strawberry Jam 2018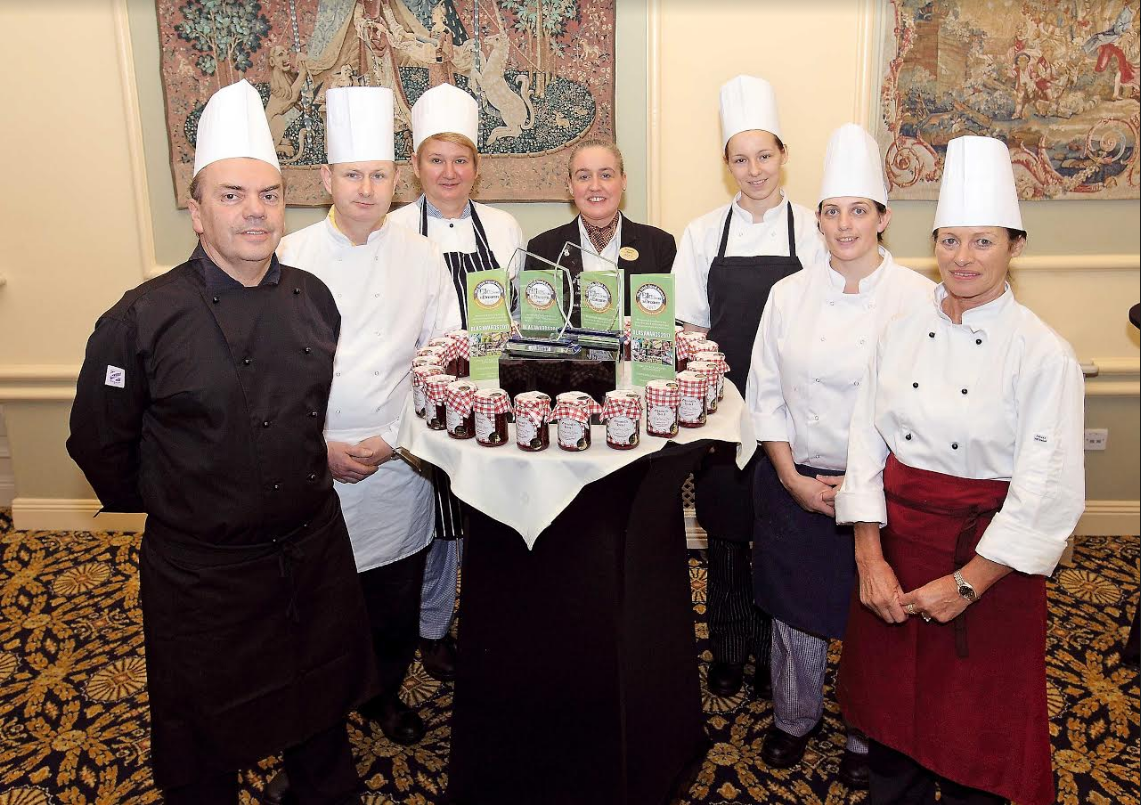 Fáilte Ireland
Service Excellence Programme
Granville Hotel recognised for attaining the highest customer service standard.
The Granville Hotel has become the first venue in Waterford City to complete the Fáilte Ireland's Accreddited Services Excellence Programme. The programme is aimed at helping tourist business reach "best in class" customer service and great visitor experiences. Over the last few months seventy fice of the Granville team attended this one day programme which reinforces the value of excellent customer service and can result in business growth, additional repeat business and positive recommendations.
Georgina Campbell
'Highly Commended"
Irish Breakfast Awards 2019
"Infectious enthusiasm is the keynote here and, from an excellent buffet to the hot food cooked to order, the breakfast offering is outstanding. The famous Waterford Blaa stars in the Bakery Basket of course (and hot dishes include Blaa Eggs Benedict Waterford Style), alongside unusual preserves such as Granville Marmalade with Muldoon Whiskey. Good renditions of all the breakfast favourites are available, including delicious fresh fish, but perhaps the defining feature is 'The Granville Hotel Organic Porridge Experience' which elevates the local Flahavans porridge to a new level - partly by including the local Muldoon Waterford Whiskey Liqueur or Highbank Organic Apple Syrup. Magic."
- Georgina Campbell

Ireland's Hotel of the Year Award
"Irish hotels have taken a terrible hammering over the last few years, but as long as we have great independent hoteliers an important aspect of this country's unique appeal will be in safe hands. We must treasure them, before it is too late.
Everyone who visits the Granville Waterford hotel seems to come away with a smile on their face – and probably an anecdote about the lovely staff and how they made everyone feel at home. It's not a fancy pants sort of place but immaculately maintained, full of pride in its history, its place in the local community and the genuine hospitality they offer their guests.
"It has," as one of our assessors remarked, "that indefinable ambience of the well-run privately owned hotel, the sense of being cosseted in an old fashioned way unlike the slick informality of modern 'concept' establishments", while a guest dining in the hotel commented on "The mature Irish staff with young local staff working alongside – they're what Irish hospitality used to be all about…chatty but not intrusive, charming and full of local recommendations for us to do. We loved it."
And we love it too: whether for business or pleasure this is a lovely place to stay and it makes a very comfortable and friendly base for exploring the area – we can't commend the management too highly for their exacting standards in all areas and, especially, the warmth of their genuine Irish hospitality."
- Georgina Campbell
---
C.I.E. TOURS INTERNATIONAL
Every year CIE Tours International hold a prestigious award ceremony to recognise hotels and visitor attractions that have provided excellent service. The awards are given based on independant customer feedback from CIE clients.
We have been honoured to be on the receiving end of some of these awards, such as:
2018 - Gold Award of Excellence
2017 - Gold Award for Best Overall Hotel Dinner
2016- Gold Award for Best Overall Hotel Service Hospitality
2015 - Gold Award for Consistently Exceeding Clients Expectations
2014 - Gold Award for Best Overall Hotel Service & Hospitality
2013 - Gold Award for Best Overall Hotel Service & Hospitality
2012 - Silver Award for Special Merit
2011 - Silver Award for Special Merit
2010 - Gold Award for Best Hotel
---
AA ROSETTE AWARD
The Granville Hotel is delighted to have a much coveted AA Rosette Award for the Bianconi Restaurant. The AA Rosette Award is awarded to restaurants who provide "truly outstanding food". For properties vying to stand at Rosette level, evidence of quality ingredients, accurate cooking, and clarity of flavour will earn top marks for an AA Food Inspector. A restaurant must truly possess a distinct creative flair; achieving standards that demand recognition nationally, and are well-established in their own right. Most integral to a Restaurant Inspector's judgment is the taste and freshness of the food on offer, as well as accuracy of cookery. Indeed, it is not the plate of food that is being assessed, but the food on the plate.
---